Flashlights
A flashlight is an essential piece of real life superhero equipment, and it has many uses.  The most obvious use, is to provide light in dark areas. It is a useful tool in deterring crime.  Criminals do not like any attention brought to them, especially bright lights.  Aside from deterring crime a flashlight can also be a great self defense weapon.  If you get a nice sturdy flashlight it can be used as a small club. If you buy a bright high powered flashlight you can use it to visually impair any attacker or criminal. In order to do this, you would need somewhere around a 200 plus lumen flashlight.
The great thing about a flashlight is that it is legal wherever you go. Many states have laws prohibiting most self defense weapons; however flashlights are good where ever you go.
Personally, I carry a 200 Lumen Husky Flashlight. I bought it at home depot for $25. For the price it is an amazing light to have.


There a lot of great flashlights to choose from. The traditional maglite is good. It can be bright and has good weight to it.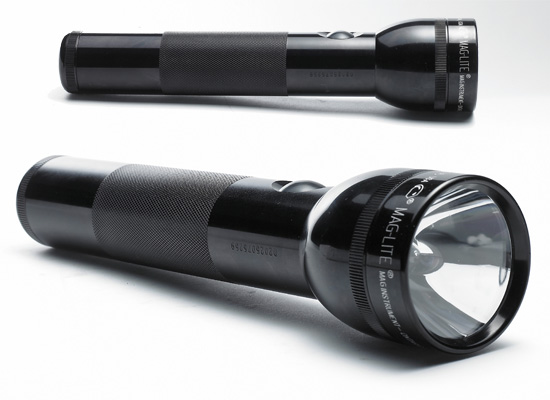 If you want to go higher end I would advise checking out fenix flashlights.
FenixFlashlights
I'm looking to eventually get the Fenix TK45 which has a sleek three light design and can output up to 760 lumens.


Here are some extra links to check out flashlights
http://www.tacticalleds.com/
http://www.solarforcestore.com/servlet/StoreFront
http://www.maglite.com/index_flash.asp